Ford Partner Programs

You may be able to take advantage of the Ford Partner Recognition Program.  If your employer is a valued partner of Ford Motor Company, you are also a partner with Robberson Ford and entitled to great discounts! 


This program, also known as "X-Plan" earns you discounted pricing that is printed right on the factory invoice.  Just obtain your Partner Recognition Code from your company's X-Plan Coordinator and give Ron Boone a call or send him and e-mail.  Put the Ford Partner Recognition Program and Robberson's 50 years of automotive excellence to work for you!
Who's Eligible
All active full-time hourly employees and regular salaried employees, beginning with their date of hire.

All hourly retirees receiving a normal, early (regular or special) or disability retirement benefit, as long as any medical benefits are being received.

Salaried retirees who retired under the General Retirement Plan, including salaried employees who terminate between the ages of 50-55 and who are eligible to receive certain deferred retirement benefits, are eligible while they are receiving benefits.

Surviving Spouses of employees who died while actively employed and Surviving Spouses of retirees who retired under the General Retirement Plan, or who are receiving benefits under the Ford-UAW Retirement Plan.

Employees on an approved leave of absence, for the duration of the leave or until expiration of any medical benefits.

Employees on layoff for the first 12 months of the layoff.

All regular part-time hourly and salaried employees who are eligible to receive medical benefits.

Members of the immediate family of the above. "Immediate family" means the following relatives of the employee or retiree:

spouse
parents
spouse's parents
sons and daughters (including in-laws and step-children)
grandchildren
brothers and sisters (including in-laws, half and step)
same-sex domestic partners covered under the health care plan (same as it is defined for health care coverage in the "Salaried Employee Benefit Bulletin #152", dated June 8, 2000.)

immediate family members of eligible same-sex domestic partners (same as it is defined above).
Employees of approved subsidiary companies and approved affiliated companies as eligibility is defined at the time of approval.
NOTE: When both the employee/retiree and his/her spouse are deceased, the surviving family members are no longer eligible.
Four new products per calendar year my be purchased or leased
Local Partners


These are some of the local partner companies - check to see if your company qualifies!
Anderson Services, Bobcat Company, Csk Company, Ferrellgas, Jeld-Wen, Inc., Kmart, Lincare, Inc., Mission Linen Company, Radio Shack Corporation, Sherwin-Williams Company, 7-Eleven, Austin Powder Company, Best Buy Co. Inc., Crawford and Company, Eddie Bauer Inc., General Parts Inc., Linens N Things Inc., Marriott International Inc., Midway Equipment and Supply Co., RSC Equipment Rental Inc., Rent-A-Center Inc., Rite-Aid Corporation, Rural Cellular Corporation, Smart & Final Inc., Thermo Fisher Scentific Inc., Wal-Mart Stores, Inc.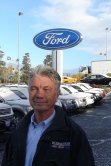 Partner Program Contact: 
Ron Boone
Fleet Manager
fleet@robberson.com
541.382.4521, ext. 135
Cell 541.390.8795