DEE DEE!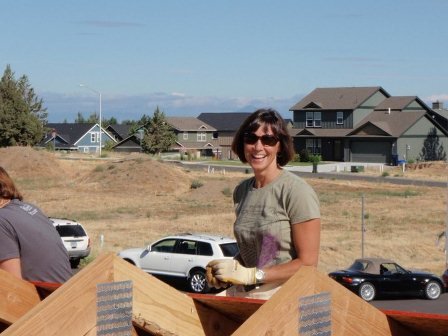 You see her on our TV commercials and hear her in your car while driving to work, just who is this Robberson Spokesperson? Her name is Dee Dee and she lives right here in Central Oregon like the rest of us. She tirelessly works for Bend Area Habitat for Humanity and teaches spin class at the Athletic Club of Bend. All this, while she tells you about why Robberson Ford is 'Real Different'. It does transfer over to other parts of her life too; One day when she was teaching a ski conditioning class a participant said to her; "You know, Dee Dee, the difference between us and the other guys, as he was pointing to members playing basketball, is that we work harder", referencing the Robberson tag line of course, with a smile.
Dee Dee is real different too, she is a mom of two active boys, a professional and we think an incredible spokesperson for the company. She shares the same love for the outdoors as we all do and also shares the challenges we face on a daily basis. Being able to tell you about Robberson Ford is pretty easy for her, "Ford is building incredible leading products these days that not only make life easier, but also keeps my kids safe" says Dee Dee. "I have found driving the many different Ford vehicles has been an eye opening experience! They are just so diverse, that I have a hard time picking a favorite. Right now I am driving a Ford Edge and it has been wonderful."
Owner, Jeff Robberson and his management team did not take too long when asking Dee Dee to be there spokesperson, "She was perfect, from the day she was yelling at us in spin class at 5am in the morning, I knew she would have incredible energy and when I learned more about her, I knew that people would connect with her. We were just glad when she said yes". 
As DeeDee will tell you, being on TV has its benefits and challenges, "lots of people come up to me all the time now, that has been an adjustment for sure, but I love talking to people and telling about Robberson Ford, so it is worth it". You might also add something about my belief in the "real people with a heart for our community" and that is another part of what draws me to the team. If you want a funny quote about the last billboard; my kids used to say "Look it's big mama" whenever we drove by. 
Jeff Robberson describes her best as one of the team. "We have an incredible staff here at Robberson Ford, whether you are in Bend or Prineville, buying a car or getting one serviced, we want you to have the same warm friendly experience that you have when you see DeeDee on TV." 
So, feel free to say hi to DeeDee and as always don't forget that Robberson Ford is Real Different.