History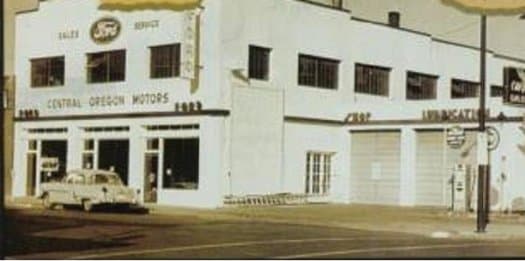 The 1950's found Gordon "Gordy" Robberson living in Seattle , Washington   His position with Ford required travel, and Bend had become one of his favorite places to visit.  While calling on the Ford dealer in The Dalles in 1957, Gordy was made aware that the Ford store in Bend was going broke, and would shut its doors for the second time in a short period.  He was asked how he might like the opportunity to be a Ford Dealer in Bend .  It sounded like a dream come true.  Gordon Robberson went back home to Seattle, liquidated his assets there, and moved his wife Dorothy, and children Christine and Jeff to Bend to assume minority ownership, and title of Dealer Principal of what was to become Robberson Ford Inc. on January 14th, 1958.
The landscape of Bend , Oregon was vastly different in 1958 than it is now fifty years later.  At that time Bend was very much a lumber town, with four operational mills and a cyclical economy that responded to the trends in the timber industry.  There was no tourism.  There was no Mt. Bachelor ski area, only Skyliners.  Many people migrated to Bend only to find that they couldn't make it during the economic downturns.  There were definitely more than a few people who wondered "WHY would you want to be a Ford dealer in Bend ?"
Robberson Ford was first located in downtown Bend at the corner of Bond and Minnesota .  With Bond Street dotted with taverns and frequented by loggers, the downtown location was definitely a colorful location to operate a dealership.  In keeping with the modernization of many dealerships, Gordy removed the gas pumps from the premises.  His full service dealership hosted sales and service departments on the main floor, with the body shop located upstairs and facilitated by a car elevator.  The store opened with just ten full-time employees.
Operating a brisk auto sales business in downtown Bend was not without its perils.  Gordy Robberson found himself in hot water on more than one occasion with the Bend City Police for using the public street to park his inventory.  Growing pains such as these prompted the move 424 NE 3 rd St , which became Robberson Ford's second location in 1960.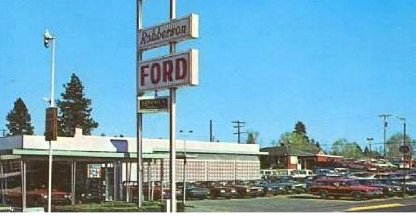 This second location, which is now home to Fireside Spa and Patio, was the right size for expansion, and Robberson Ford added the Lincoln and Mercury franchises in 1961.The business grew and prospered in this location.
The  growth of the business required an expansion to a two bay body shop, an alignment rack, and a tiered used car lot (still in operation), just south of the main dealership.
In 1971, with the addition of Mazda, Gordy Robberson moved his company to what is the current location of Robberson Ford Lincoln Mercury Mazda at 2100 NE 3 rd Street in Bend .  Construction at the current site had begun in early 1970, and moving day came in the winter months of 1971 before the weather allowed the lot to be paved. In addition to adding Mazda, the dealership became the Fiat Dealer for a short time but soon after cancelled the franchise agreement due to quality issues.
In the early 1980's Bend entered one of its more serious economic downturns, with businesses closing, and people walking away from their mortgages.  Business was tough to say the least. According to then recently hired cashier, Debbie Anderson, Gordy kept employees on the payroll even though there wasn't enough work for them to do. Debbie has since grown with the organization, and is currently Controller, overseeing all of Robberson's operations.
Gordon Robberson's son, Jeff Robberson, joined the company in 1986.  Jeff had established a successful career in the trucking industry, and brought his passion for the highest levels of customer service with him.  His arrival marked a period of significant transition and expansion for Robberson Ford Lincoln Mercury Mazda.
First charged with the management of the Parts, Service, and Fleet Departments, Jeff found that that there were many areas where the business could rise to meet or exceed customer expectations.  He also determined that the company's insurance for a secure future lay in the success of the Parts and Service Departments. He credits the growth to a young manager, Duane Fuerstenau, Service Manager. Plans for expansion included the Quick Lube Center , located on the backside of the property, which opened for business in 1990.
Jeff could also see room for improvement on the sales side of the business, and his father agreed.  In 1994 Jeff assumed the role of General Manager, prompting management changes and an increased focus on the satisfaction of every customer. During that time, the Sales Department produced at such a volume that Robberson became known as one of the top selling truck dealerships the Northwest Region. Key players included Fleet Manager, Ron Boone . The nineties marked a period of growth and team building for Robberson Ford Lincoln Mercury Mazda. 
With the increased success came the need to expand once again. The growth in vehicle sales required an increased amount of inventory.  Additionally, the Body Shop had become antiquated. It was decision time. Either close the Body Shop, as was the practice of most dealerships, or go through the cost of a significant upgrade. Fortunately for the dealership, a talented and experienced Collision Center Manager, Ben Nolan , had joined the Robberson Team. The decision was made to invest in the future once again. In 2000 the Robberson Collision Center and Pre-Owned Center were built and opened at 2770 NE 2 nd St. in Bend .  Under Ben's Leadership, Robberson Collision Center has grown to Central Oregon 's biggest and best collision repair facility.
In 2002, Shrum Ford in Prineville called it quits, and took down their Ford sign. Ford Motor Company was willing to reassign the territory to Robberson Ford if they were willing to build a small satellite facility.  Seeing the opportunity in an under serviced market, the somewhat controversial decision was made to build a dealership not only with sales, but complete with a Parts, Service and Quick Lube as well. Prineville dealership has become a strong part of the Prineville community.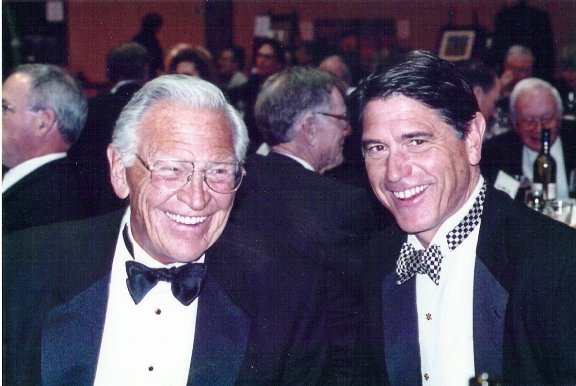 Gordon and Jeff Robberson
Sadly, in September 2005, founder Gordon Robberson died at the age of 80. Without his courage to leverage everything he had, and move to a small mill town in Central Oregon , Robberson Ford would never have been. Gordy loved working at the dealership, and considered his employees as his second family. Starting with 10 employees in a rented building in downtown Bend and growing to over 120 employees in three locations, the Robberson organization has never lost its pursuit of improvement, appreciation of the people that make it happen, and of course our customers, without whom none of this would be possible.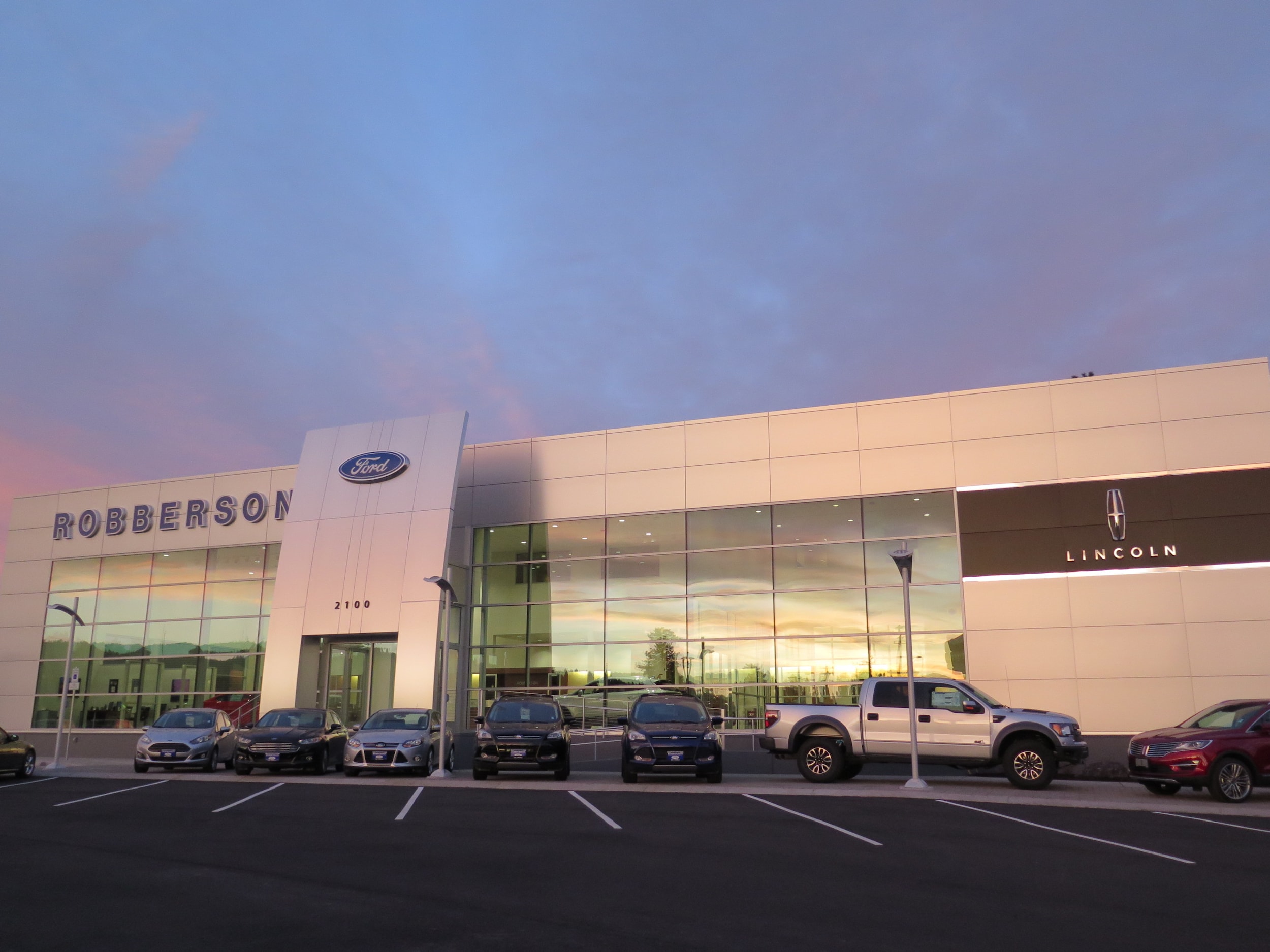 In 2015, Robberson Ford finished construction on a new building. We are still located on the 2100 NE 3rd St.