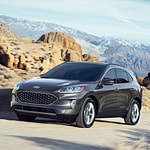 When you spend a lot of time in your vehicle, small things matter. One reason the Ford Escape is so popular in Bend is that it's a compact SUV that takes care of the small things.
Rotary Gear Shift Dial
By turning the shift knob into a dial, the Escape frees up space on the console. There's room for a handy USB port and a more useful storage bin. The cup holders can also be within easier reach when you don't have to navigate around a shifter.
Hands-Free Foot-Activated Liftgate
Not only can you open the Escape…
Read More