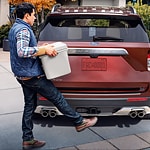 Ford produces many exceptional vehicles. The Ford Explorer proudly represents Ford in the SUV market. The Explorer consistently stands tall as a popular model, and its many features are among the reasons why. Of all those features, the capability ones deserve a close look. You do want a model capable of handling the rigors of life in Bend. See what the Ford Explorer offers.
The Ford Explorer comes with rear-wheel-drive, a design aspect designed to boost performance. There's also Intelligent FWD, and it comes with seven different modes. Select the one appropriate for your current needs. Snow, towing, eco, and slippery modes are among them.
And the towing capabilities are impressive. The Explorer can tow upwards of 5,600 lbs of cargo, an incredible capacity. And drivers also get internal capacity. That means you can haul a lot of cargo
At Robberson Ford Sales Inc., we feel you'll find much to marvel at when testing driving a Ford Explorer. Schedule a time to do so at our location.